3 Truckload Trailer Types You Should Know
If you've just started a trucking company, you must be aware of the challenges that come with choosing the right types of trailers.
However, the first step is to understand different types of truckload trailers, which may be difficult, even for experienced individuals. Knowing and being able to trailers will not only help you determine the best mode to move your freight but also increase efficiency.
What's more, truckers need to take care of the nationwide trailer dimensions protocols. Exceeding the allowed dimension and freight loads may result in fines. Let's dig deeper to learn more about the three types of trailers.
What is a Trailer?
Many people often confuse trucks with trailers. A trailer typically has wheels but no engine, which means that it can be attached to a truck with an engine. Although there are numerous types of trailers, you should determine the nature and load of your freight before selecting one.
1.    Dry Van Trailers
The first, and probably the most common type of truckload trailer is called a Dry van. These trailers are enclosed from four sides and the roof with a door on the backside. Worldwide, sensitive and huge loads of cargo are easily moved in dry van trailers.
Dry van trailers can only be loaded from the rear end as the sides and roof aren't detachable. All in all, enclosed or dry van trailers are inexpensive, easy to maintain, and good for ensuring the safety of the material.
Moreover, you don't have to worry about the additional costs of tarps and packaging material.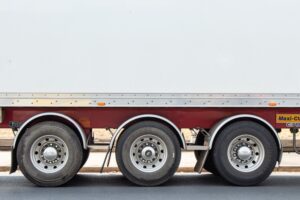 2.    Flatbed Trailers
The next functional and highly versatile type of truckload trailer is known as a flatbed trailer. This trailer comes with no roof or walls. It has wheels and a flatbed-like surface for material loading. A flatbed trailer is very common for transporting industrial goods.
Known for its robustness and versatility, flatbed trailers are a common and highly significant asset for carriers.  However, loading and unloading material on a flatbed trailer requires crane and forklift assistance. And since there are no walls and roofs, material needs to be covered properly in tarps and secured with correct safety precautions.
3.    Step Deck Trailer
The third, most popular type of trailer used in freight management is known as a step deck trailer. These trailers have two decks, one beneath the other. Step deck trailers are considered the right option for transporting taller loads. They also have ramps for loading and unloading the material.
While many carriers think that step deck and flatbed trailers are quite the same, they have one major difference i.e. the allowed material height. Flatbeds are not as close to the ground as step deck trailers are.
If you're looking for dependable freight management or truck dispatching services in the US, look no further than Independent Freight, LLC.
We're a full-service freight management company that can work as an independent contractor for you. From locating and securing loads to dispatching it, we ensure dedication, security, and truck industry compliance every step of the way.
Contact us now for more details.