What is the Unified Carrier Registration?
Driving a truck isn't the same as driving a car. Driving, operating, or owning a truck requires you to adhere to a wide range of regulatory requirements. Other than the right kind of expertise, experience, and proficiency, you need to invest in a freight company that adhered to UCR requirements.
Getting a UCR should definitely be on your bucket list straight away!  If you're an unregistered motor carrier and cross the state lines without a UCR, you could get fined. You definitely don't want to get your truck pulled off the road.
Here are the details of the UCR and what it comprises:
A lowdown on the UCR registration
The term UCR stands for Unified Carrier Registration. UCR comes under the federally mandated system for commercial vehicles that travel and operate within interstate and international limits. If you are a registered operator of a commercial vehicle, you also need to renew your registration on December 31st of every year.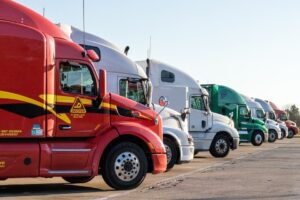 Do you need a UCR filing?
You're eligible for a UCR filing if you own or drive a motor vehicle for commercial purposes and over international/state lines. The filing applies to vehicles that carry cargo over these lines.
You're also eligible for UCR filing if you're an individual or a corporate entity that makes arrangements for shipments of goods. This includes freight forwarders, brokers, and leasing companies. If you're a motor carrier, the total cost of the UCR filing fee will depend on the number of vehicles in your fleet. This is why leasing companies and brokers are subject to the lowest registration fee.
What happens if I don't get a UCR registration?
There is a lot that could happen if you don't pay the UCR fee and are caught driving over state lines. in the worst possible situation, your vehicle could be detained. This is in addition to the fines and penalties. Irrespective of the state that you belong to, the fine can range between $100 and $5000 if you're a first-time offender.
At the moment, around 41 states in the US participate in the UCR program. You'll have to check whether your state participates in the program. However, even if it doesn't, you still need to be cautious if you're traveling over the state lines. In this case, you'll be required to purchase a UCR filing in the nearest participating state.
Independent Freight LLC offers unparalleled professionalism when it comes to freight services. We provide a holistic suite of freight shipping services that also includes flatbeds, reefers, and dry vans.
Our firm fully complies with UCR filing requirements and takes pride in offering the best paying loads. We also take pride in being fully compliant with IFTA and Weight Distance Quarter filing, 2290 filing, and permit filling. You can get in touch with our representatives for consulting services, invoicing, and broker onboarding.